U
Über allen Gipfeln ist Ruh.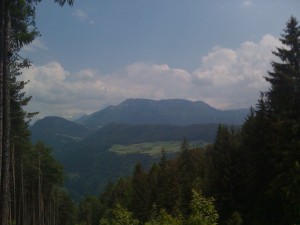 Is it Heine? and what is the rest of it?
U: Goethe.
Über allen Gipfeln
ist Ruh,
in allen Wipfeln
spürest du
kaum einen Hauch;
die Vögelein schweigen im Walde,
warte nur, balde
ruhest du auch!
The Wandrers Nachtlied II, set to music by a great many people I've never heard of and some I have, including Schubert, Schumann & Liszt.
Herself: Could I have a translation, please?
U: Wayfarer's Night Song II, Johann Wolfgang von Goethe
Prose Translation by Hyde Flippo
Over all the hilltops
is calm.
In all the treetops
you feel
hardly a breath of air.
The little birds fall silent in the woods.
Just wait… soon
you'll also be at rest.
Herself: Any Alpine flowers?
F
is for Footsure. The footsure experts are on their way to the waterfall.
That means they must cross the passerelle or Footbridge and perhaps fall in. I did not fall in.
G
is for Gadzookery. This and German are the two languages I am daily exposed to, so that, by the ten bones of my fingers!, I have well-nigh forgot my ordinary discourse. I' faith, eftsoons –
that is to say, I am reading The White Company. I dare swear it is passing good.
Incongruously, I am reading it on my mother's electronic book.