The snow began at Penrith. The train stopped at Carlisle for an hour, while they unfroze the signals somewhere ahead. Eventually it was an hour and a half behind time, after they unfroze the points as well. So I arrived late on a Sunday night on the 3rd of January, which is not a big night for a taxi driver to be working, and after multiplying the number of people in the queue by the frequency of taxis, I walked to my destination. There was nothing wrong with this decision except that I made the mistake of climbing up Advocates Close and I should have had crampons and an ice axe.
It was snowy all the way north from Edinburgh, but we took off in sunshine. North of the Tay we flew above the cloud, so it was still sunny. I saw a circular rainbow on the surface of the cloud.
Orkney is Arctic.
Knitting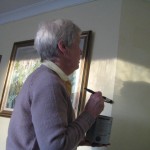 The sun shines in Orkney. The flowers bloom. Readers of long standing may recall my knitting. That is it, in completed form as a scarf. The flowers are on opposite sides of the scarf, to confuse people.
Meanwhile Herself has been distracted from her own knitting to take up painting. But she only painted the wall, which needed a bit of touching up; not the Perpetua Pope.
Furthest North
All night (except perhaps during those hours when I was asleep) in Kirkwall the snow beat against the windows. But in the morning we put on all the coats and hats and shoes and boots at our disposal and set out to the garage. Herself drove. We went down to the town.
'We must buy plenty of tins of soup in case we are snowed in again,' said Herself. We went to the supermarket. 'All the good soup is in Shearer's,' said Herself.
'Tomato and rice soup is nice,' I said.
'Where?'
'There.'
'Oh, there. All right. One tin will do.'
Given this revised view of the weather, and because the sun is shining, we came to Stromness for lunch. There is more snow over here in the west. So the geese have flown across to annoy the East Mainland farmers. The West Mainland is white with snow. Stenness loch is frozen. Polar bears hunt by the Finstown shore. Walruses lollop along the road in Stenness. Seals bask on the sunny rocks by the edge of the ice at the Brig o' Waithe. (It is true about the seals.) But we came through these perils to Stromness. Now we are having coffee to fortify ourselves for the return. (We have returned unscathed.)